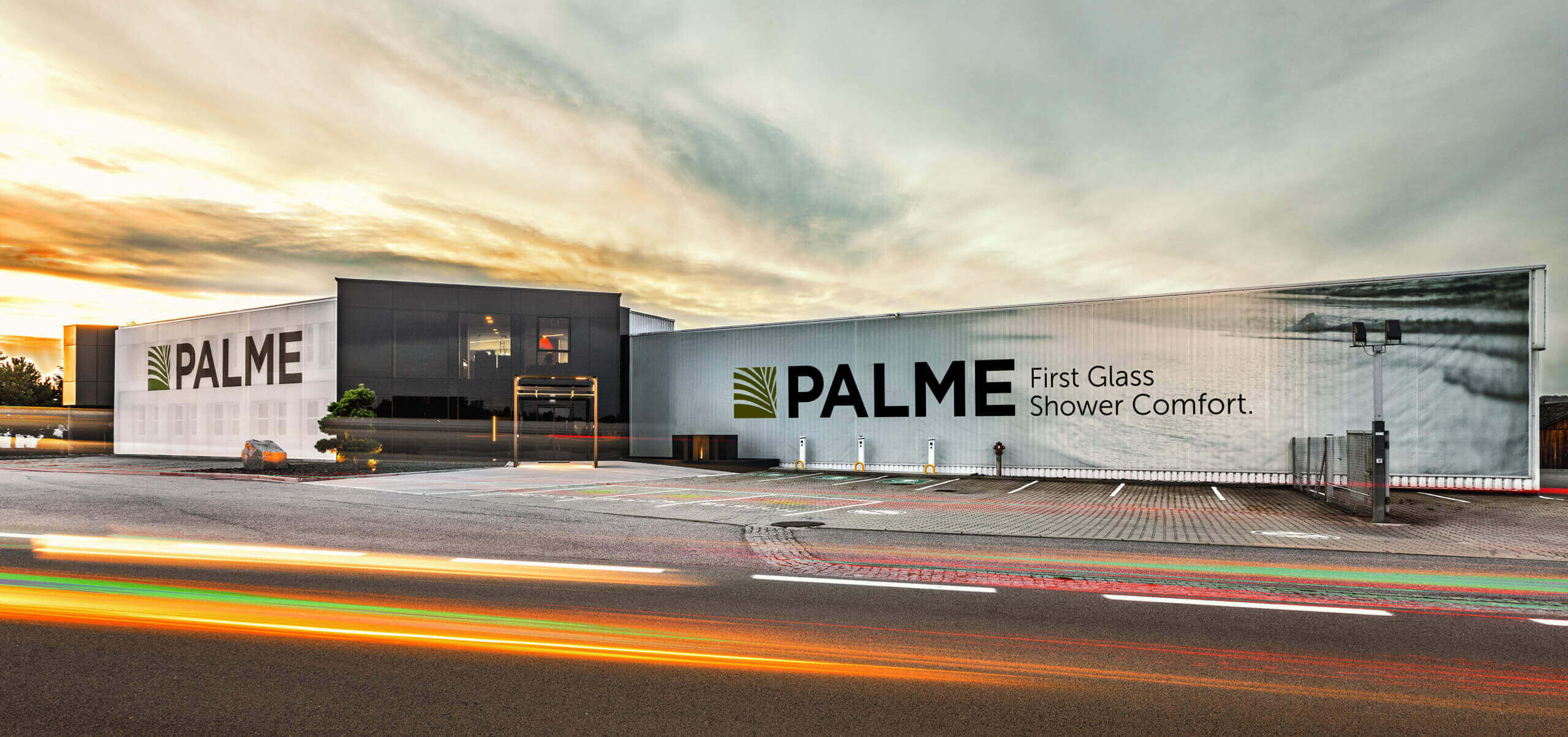 A COMPANY THAT OFFERS THE FINEST SHOWER EXPERIENCE
TOGETHER, WE CAN TRANSFORM YOUR BATHROOM INTO A FEEL-GOOD OASIS.
With a passion for first-class comfort and attention to detail, we develop and manufacture shower oases that are second to none.
PALME specialises in the production and development of shower enclosures, wall cladding, room partitions and sanitary partitions. The company's head offices are located in Taufkirchen an der Pram in Austria. All products are manufactured at the Taufkirchen site on a production area of approx. 15,000 m². PALME is 100 % family owned.
WITH SHOWER OASES FROM PALME, YOU ARE CHOOSING FIRST-CLASS, AUSTRIAN QUALITY.

Put your trust in the experts at PALME and benefit from a 10-year spare parts after-sales guarantee – and much more besides!
Design and professional assembly, combined with innovative, easy to install products – that's PALME.
Expert knowledge, creative discernment and a true passion for what we do, have been the inspiration behind all PALME products for over 45 years.
Ultimate shower comfort is our goal.
OUR COMPANY PHILOSOPHY IS BASED ON THREE STRONG PILLARS:
ABILITY TO INNOVATE
More than 30 patents and utility models are the result of close cooperation between our development, sales and customer service departments.
Dialogue with our customers inspires us and creates the symbiosis that unites our inventive and practical approach.
QUALITY FROM AUSTRIA
In order to guarantee top quality, our design and production facilities are concentrated at the Austrian head offices of our family business. This allows us to maintain our standards to the highest level.
CUSTOMER FOCUS
The variety of models and design options we offer allow us to create the exact shower oasis you've been dreaming of. In addition to a carefully designed appearance, fine materials and functional detail solutions, PALME offers a great brand plus: quality from Austria, leading technology, customer service and a long service life.